FAQs
---
What is the difference between Regular and Thin version?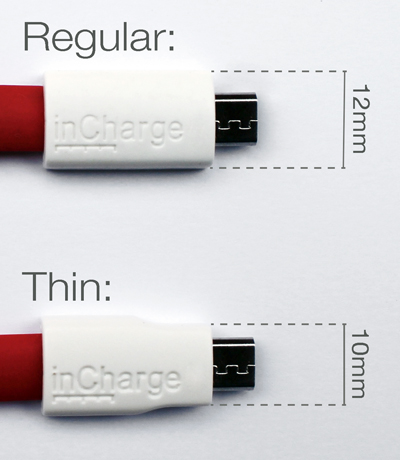 The thin version is more narrow to fit more phone cases. It's now fully developed and ready for shipping!
---
When will my payment be processed?
If you buy inCharge on our website, your payment will be processed immediately, to ensure the fastest handling possible for your order. For any questions regarding your order, please contact info@incharge.rocks
---
How long does shipping take?
Shipping depends on your country, usually it takes around 6-10 business days.
---
What shipping method will be used?
Orders of just 1 unit will be shipped with Deutsche Post (non-tracked), every order with more than 1 unit will be shipped with Deutsche Post (tracked).
---
How to buy a larger quantity?
If you are interested in making a bulk order, please contact wholesale@incharge.rocks and we will send you a quotation as soon as possible.
---
My shipment is taking longer than average shipping times. Why?
We are experiencing many delays, especially in: United States, United Kingdom, Italy, Spain and South America. These delays are common when using economy shipping. Please just be patient.
---
I moved. Can I change my address?
You can change your address only if your order status is "Processing". To change it, please visit your order's page, or contact info@incharge.rocks
---
My address is wrong but the order is already shipped. What can I do?
We are sorry but since your package has already been shipped you can't change your address at this time. If your address was wrong the package will be shipped back to us. Once we receive it we will ship it to you again to the correct address.
---
My order was shipped a while ago, but I haven't got it yet. Why?
Many times the delay is caused by incorrect address. This happens because when shipping large quantities of envelopes, the labels are read by a machine and if the address is not in the correct form, it may slow down its delivery. Correct form example:

Firstname Lastname
Street address and number
Postal code, City State
COUNTRY

You can check your address at your order's page.
---
I have got my inCharge. Where can I leave my review?
Your feedback is important to us! Please leave your review here: incharge.rocks/reviews
---
I have got my inCharge and I want to order more. Where can I do so?
You can get inCharge on our website
---
Is it possible to request a refund?
If you have changed your mind, you can request a refund if your order status is "Processing". If your order is "Ready for shipping" or "Shipped", you will need to wait until you receive the package, then you can ship the package back to us. Once received, we will send you the refund. For more detailed info, please read our policy.
---
Other questions?
If you didn't find your answer here, contact us at: info@incharge.rocks